Zoho CRM Setup
If you want to manage your customer relationships in a lot better and effective manner, then Zoho CRM is the right tool for your company.
It has plenty of integrations and tools that can help you manage your sales process efficiently. Zoho has changed its modules during the last 5 years. The user interface has changed drastically and it is a good direction. It can be used by micro, small and medium-sized businesses.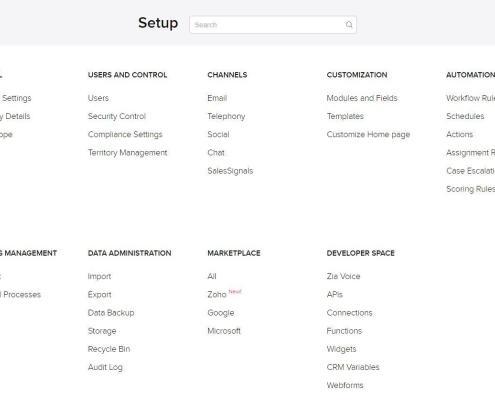 There are three options worth to mention:
Zoho CRM as a part of Zoho One apps
Zoho CRMPlus – a set of apps: Zoho CRM, Desk, Projects, Sales IQ, Campaigns, SalesInbox, Social, Survey, Analytics.
Zoho Bigin – the simplest CRM for salespeople.
We help in choosing the best option for your business.
Our typical Zoho CRM setup projects includes:
your sales processes analysis session
basic modules customization and fields
adding non-standard fields, layouts and views
workflows' configuration
internal chat and external chat on your website via Zoho Sales IQ
creating Zoho CRM web form for contacting your customers – the script can be added to any website
data import
user access rights and roles creation – maximum 5
the final training
Standard and Custom Integrations
Email and Mail Merge Templates
Custom Reports, Dashboards and Views
Chat and Ticketing system*
*it is premium offer for setting up Zoho Sales IQ chat and Zoho Desk