The project management is my key skill and expertise. I successfully finalized hundreds of projects – small ( 1-month duration or 2 years long), including business projects, business processes transformation, implementation of new IT technologies, an expansion of existing applications, and the implementation of innovative solutions.

Urszula Urban, Managing Director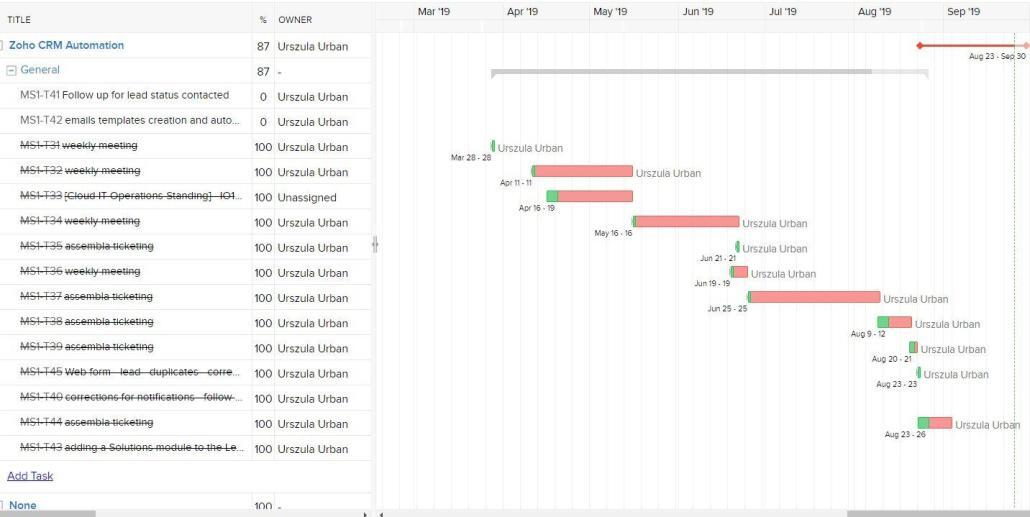 My team uses different project management tools for more complicated projects like Zoho Project, Zoho Sprint, Asana, Trello,  Jira, Github or MS Project or simple Excel sheets.
 We specialize in:
advanced applications development – CRM, ERP
advanced website's development that uses many other applications, widgets,  e-commerce tools
Magento/Shopify/Woocomerce/Wordpress project management
Requirements gathering
Online shop migration to a new platform
CRM migration
implementations of  changes to the website/e-shop based on audit recommendations by working with good developers and programmers
Project Management Coaching
If you plan to integrate your corporate website with an online shop
if you plan to build a multi-platform for all your business activities – like your time reservation with online shop and payments, integration with your accounting system or warehouse system, integration with online auctions.
if you plan to build your own CRM or ERP and you don't know what to choose
if you want to migrate to another CRM or ERP
We can help you. We know many technologies and frameworks that can be used: PMP, Prince 2 Foundation, Agile framework, and Scrum.
---
$150 per hour
External Project Manager
Our team members use  Prince 2, PMP, Agile, and Scrum methodology.
We use them every day in the projects, as well as our own tools and best practices.
Every project is different and requires a special approach.
We guarantee that working with us and using project management tools lead to the success of your projects
Trainings
We offer a custom project management training. Simply contact us.
1 day training for 1-9 people – ca. $2,000
1 day training for 10-50 people – ca. $6,000