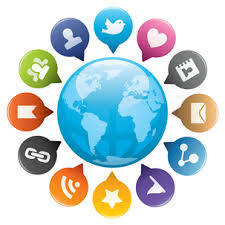 Content Marketing and Search Engine Optimization (SEO) are two critical components of inbound marketing. Recently I read a few interesting articles about it. These is a summary of my findings.
The larger the organization, the more challenging it is to get approval and buy-in to build a sustainable content marketing program that will significantly move the needle in SEO
Your content marketing strategy will provide the biggest boost to your organic search visibility if you follow these four rules:
1) Know your key personas
2) Know and write to all stages of the buy cycle
3) Talk outside-in vs. inside-out
4) All write in the same direction
Know Your Key Personas
We all know how important it is to know your customers, core audience and key personas on the web. This applies directly to the content you create – especially for B2B companies – that usually have a limited content creation budget.
The clearer the picture of your personas are, the more targeted your content creation will be resulting in higher quality visitors that are closer to your ideal prospect.
Simply answer following questions:
• What are the main types of business problems the persona typically needs to solve?
• How does your product or service provide solutions to these problems?
• What are some specific tasks the searcher wants to accomplish?
• What are some sample search queries the persona might use?
• What can the site provide that will cause the searcher to accomplish this task?
• What is your business goal for the visitor? Lead gen? Newsletter sign-up? Sale? Inspiration?
• How will the searcher be motivated to complete this business goal? i.e., what's the offer or incentive? What is the call-to-action?
With this intimate knowledge of your audience in hand, you can craft more relevant keyword and content topics.
Know and write to all stages of the buy cycle
Here are the four main stages of the buy cycle to build content for and the appropriate types of format for each: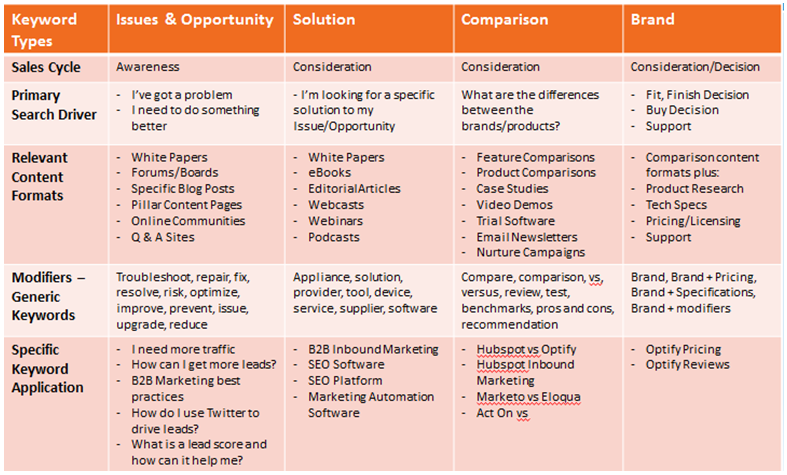 Author: Scott Fasser, VP of Customer Experience at Optify
Talk outside-in vs. inside-out 
Knowing your key words that web users use via a search engine can help you drive a new way of your brand communication as well as modifying your basic message.
SEO helps reach more customers in an inexpensive way. If you don't like words your clients find your company via search engine, you can invest your time and money into the keywords more relevant to you. But a wiser thing is to use what you have and create different communication by using your current key words.
The lesson here it to review your current and future messaging from the point of view of a persona that does not know about your brand, focus on true differentiation/value proposition and create content that they will understand without needing an explanation. Finding that balance between pushing new concepts and terms vs. serving the market where it exists today is an important input into your content marketing planning.
Write in the Same Direction
Content creation and SEO is no longer limited to the marketing department and copywriters. Blogs, social media, press releases, video, podcasting, etc. has created many ways to easily publish content to your company and other industry related sites. Profiles on Facebook, LinkedIn, Twitter, SlideShare, Pinterest, Google + mean that there are MORE places to fill with content. All of this communication impacts your brand and visibility – positively or negatively.
One of the most important things you can do to amplify your content strategy is to get as many people in your organization to understand how their work can impact the SEO program and what they should to contribute. By giving them the education and the game plan for what key messaging and keywords are reinforces the central promise of your business.
Simply one voice and one direction = you are the king.
https://www.digideo.co/wp-content/uploads/2013/09/content.jpg
225
225
admin
https://www.digideo.co/wp-content/uploads/2023/06/digideo2019-340-1.jpg
admin
2013-09-12 18:01:45
2013-09-12 18:01:45
Content is a king