" Content attracts B2B Customers" – this is the main outcome of my recent analysis of several American based websites and online stores.
How to make content attractive for B2B
My clients, micro and small businesses, were really surprised that they need to update their websites frequently to be visible in Google.
They were even surprised that their content is really not relevant and too old for their clients. Majority of websites were not updated 1-2 years.
They mentioned that the lack of time and resources as well as lack of leads from website caused less attention or lack of their attention.
Most clients use their old network of contacts as a main source of leads and sales. Of course it is a very good approach.
The situation is different if you are starting your business and you are looking for your new customers or you want to grow over your network. P.S. I have the same situation in USA.
My assumptions of your company offer

1. you have great products and services
2. you know your offer is unique
next:
you have to tell your potential customers your story.
This is actually the basis for creating the content. The great content attracts B2B.
The great content can differentiate your from your competitors, can build awareness and next grown your sales.
There is also one strange situation: your content is good, very creative, well designed, very popular ( many visits) but there is no leads.
I had it recently with one of my client.
There was a very simple answer – your clients expect something different or you direct your content to wrong channel of communication. By tweaking your message, you story, you can change the perception and results.
Your marketing efforts have to consider also online possibilities to reach new customers. Young generation is using social media, online searches widely. You need to be there.
Please find below one slide prepared by @Lee Odden. I presents all common channels of communication you can share your story and attract customers.
Some channels can help you in many areas: building awareness, developing advocacy.
As you see all offline and online channels should cooperate and exist together.
you need to check if your online content is visible on different devices: tablets, smartphones ( maybe you need to create a specific story per device)
usability – easy to use, easy to access
catchy and unique message that sells your products and services
I would suggest to add marketing automation software and crm integration for all your channels.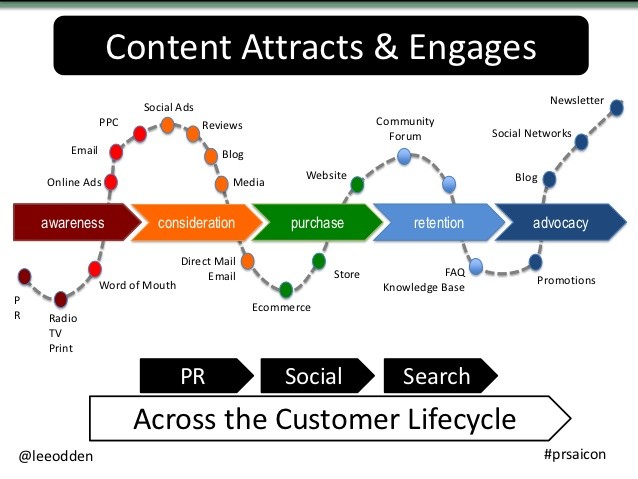 Good luck!