Marketing automation tactics for B2B
3 core components to marketing automation
The focus and tactics of B2B vs B2C companies, and how they use marketing automation are considerable, yet they have similar conversion-focused goals.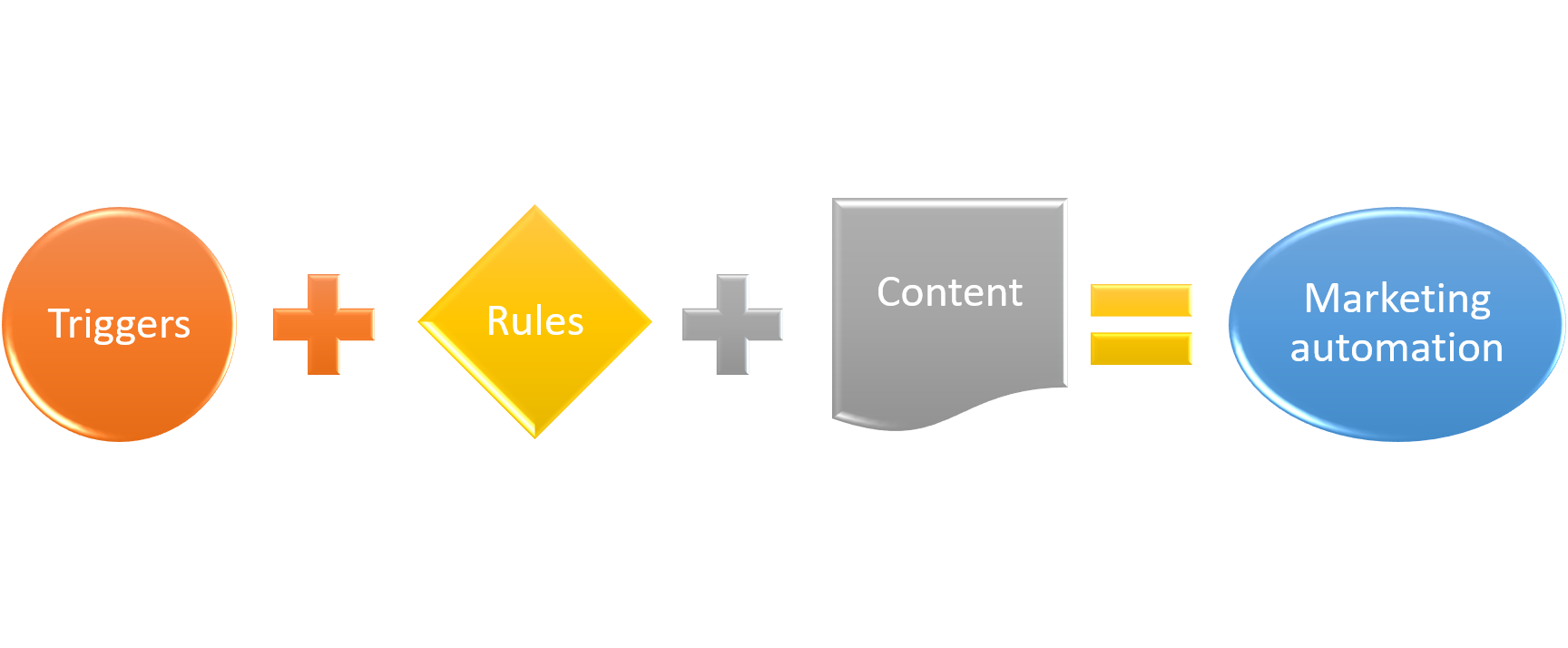 Similarities include:
To build their brands by sending relevant messages to their subscriber lists and to stay top-of-mind
To get the metrics that tell the story of what's working, and what's not, for more successful future campaigns
Both want to increase efficiency
Both want to increase revenue
But there are clear differences:
B2B focuses on personalized, highly relevant messages whereas B2C campaigns are often more mass-oriented
B2B is all about the customer journey and where the individual is in his or her unique process, whereas B2C is more about education and value-sharing for a large group and focused on nurturing a lead through a sales funnel
Below I will describe some elements of marketing automation tactics implementation process.
Marketing automation tactics implementation in B2B
you should define your B2B funnels ( by analyzing your current sales process, personas, decision makers, influencers, deals, products)
 your lead process should be added to your marketing automation tool ( lead sources, steps – sales path, personas, accounts, a qualification, a conversion)
it is a good time for analyzing your current communication flow ( web content, training, product descriptions, offline brochures, marketing materials, offer, price lists, etc.)
next step is to set different types of email templates in your CRM/email software based on your personas and types of products
once all 4 points are done, you can start building workflows inside your crm/marketing automation tool
additionally linking your crm/marketing automation tool to your social media profiles ( Linkedin, Facebook, Instagram, etc.)
 you should also fully integrate it with your email software, calendar, events and crm
and next add the phone calls management to your crm/marketing automation
optionally you can also add the prospect valuation by using 3rd party tools
this is the most important part – integrating with your website – adding web statistics and tracking to your web forms
next, after a few weeks, you can start to add an appropriate scoring to your customers based on their activity ( previous purchases, email opening rates, calls)
of course, you can enable your first marketing automation campaign, web form or landing page with a dynamic content based on the customer activity and history.
There are a few very important marketing automation tactics that can be used by any B2B company.
Dynamic Content
The implementation of dynamic content is one of B2B marketing automation tactics that I would like to describe more deeply.
Everybody knows Amazon and its offer personalization after your purchases or last visits. It works a little bit similar.
You can create a landing page to deliver to your customers only the content that these clients want to receive.
For example, if the company has created five blog posts in the past week on five different topics, a given customer may only receive three of these posts in their email inbox (since the other two are on subjects that don't interest them).
The content being delivered is based on a variety of factors, such as:
A customer's previous engagements with the company, including purchases, calls or any prospecting
The company's knowledge of the customer's needs
Current marketing and sales campaigns being run by the company
Dynamic content makes it easy for B2B companies to send specific content to individual customers at a time in which such content will be most valuable – and will hopefully lead the customer to make a purchase.
Drip Campaigns
Similarly, email drip campaigns allow B2B companies to send the right email to the right customer at the right time.
Email drips are usually sparked once a customer submits their email information through a form requesting access to content such as a white paper, e-book or explainer video.
The email drip will then provide additional information about the topic at hand – and lead the customer through the sales pipeline at the same time.
Email drip campaigns should always culminate with a salesperson reaching out to the customer personally to discuss next steps. At this point, the customer will be much more informed about what the company has to offer – so the salesperson can focus on more important aspects of their services (rather than having to spend time explaining the basis).
Nurture Campaigns
Nurture campaigns implement a combination of marketing and sales tactics, from dynamic content and drip campaigns to strategic outreach.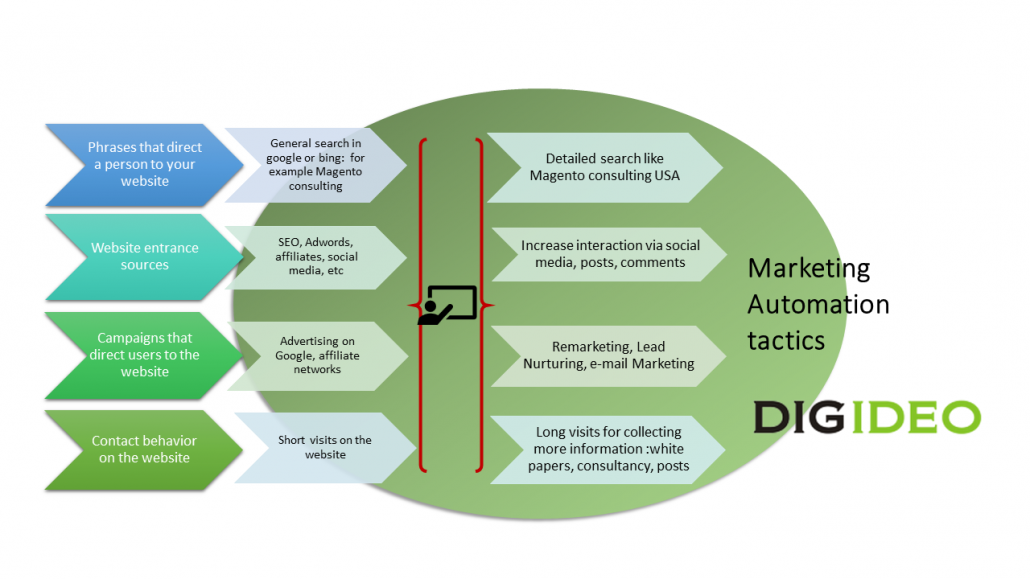 Nurture campaigns are a "choose your own adventure" experience for the customer. In other words, while all customers will begin on a relatively similar path, their unique needs, and experiences – as well as how they engage with the company – will determine where they end up going. Most marketing automation platforms use Artificial Intelligence for such campaigns. They collect data from many channels, activities, ads and propose the special path for such customers.
Going back to the "market of one," nurture campaigns work to bring about a personalized experience for each client within a B2B company's customer base.
Email Marketing
is very important in B2C – please check the email marketing statistics.
B2B industry can easily adapt many B2C tactics and ideas for better conversion rate.
You can find many ideas in the following post  "Best email marketing ideas"
Lucy Davis points out the message customization, mobile readiness, Bundles and Subscriptions that are very common in Saas industry and a few more.
Extending Offers of Credit
Now for a less modern, but still incredibly effective, sales tactic.
In the same vein of providing individualized offers to each client of a B2B company, it's also important to provide these customers with options regarding payment. Many CRMs allow creating a credit line.
Magento shop has a few extensions that can manage it as well.
Allowing B2B customers to open lines of credit serves many purposes:
It eases the friction of making a purchase, making the decision to purchase much easier for the customer
It keeps customers "on the hook" for a longer period (in contrast to a single-instance purchase)
It forges a relationship of trust between both parties, which hopefully will lead to increased loyalty to the customer's part
Extending credit to trusted customers is nothing new, but as the number of payment options has increased tremendously in recent years, the ability of B2B companies to receive and manage ongoing payments has never been easier.
Summarizing
Marketing Automation tactics for B2B include many sales tactics from the offline world that can be easily automated. Of course the most important is the customer, the relationship between the customer and a skilled salesperson who can manage it by analyzing, configuring and adjusting the process and its outcome. AI helps in collecting and analyzing the data like in B2C, but still, especially in B2B, the personal contact is really important.
Please let us know if you need any help or consultancy to get as much as possible from your marketing automation tool.
We helped many companies to get better results.