My subjective list of eCommerce news
Amazon has agreed to buy Souq.com, the leading online retailer in the Middle East.
Terms of the agreement were not disclosed, but Amazon reportedly agreed to pay less for Souq than Emaar had offered. Souq, led by cofounder and CEO Ronaldo Mouchawar, claims to be the largest online retail and marketplace platform in the Arab world.
---
Contact Center solution from Amazon
Amazon Web Services announced Amazon Connect, a self-service contact center solution based on the same cloud technology used by Amazon customer service associates worldwide. It looks that this giant enters another market.
---
Walmart eCommerce U.S. discussed the company's plans to launch a new venture, called "Store No. 8," which will operate as a Silicon Valley incubator for new online stores. The incubator will focus on startups engaged in machine learning, artificial intelligence, robotics and augmented reality.
---
E

commerce in Russia was worth €14.85 billion in 2016
Russia's total retail e-commerce sales reached 920 billion rubles ($15.7 billion) in 2016, up 20 percent from the previous year, according to a study (in Russian) by the Association of Online Retail Companies (AKIT), which unites the country's largest e-commerce retailers. AKIT estimates the market will top 1 trillion rubles ($17.1 billion) in 2017. This study also shows that Russian consumers increasingly prefer foreign retailers. Non-Russian sellers now account for almost third of the total ecommerce market in Russia, while the cross-border market grew harder (37 percent) than the local market did (6 percent).
---
M

cDonald's Puts Mobile Ordering to the Test
McDonald's on Wednesday began testing new mobile ordering and payment functionality at 29 of its restaurants in Monterey and Salinas, California.
It expanded the pilot to another 51 restaurants in Spokane, Washington in March.
---
Per Masterindex 2017 research dine by Mastercard Europeans are quite active in the ecommerce market. One in four Europeans with internet access shopped online at least once a week last year, while over 60 percent shopped online once a month. And 6 percent of Europeans shop online every day.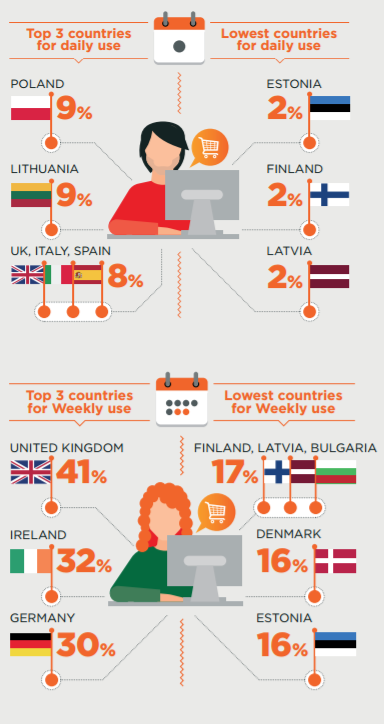 ---
One of the most interesting eCommerce conferences will start soon in Las Vegas, USA. Speakers and its agenda are so interesting that everybody who is interested in selling online, simply has to participate this conference.