Social sharing and recommendations in e-commerce had a huge impact on sales.
I found interesting infographics that present the recent analysis of USA market.
It presents a growing importance of Pinterest as a recommendation platform.
It is really interesting.
It looks that majority of shares are related to apparel, home, and electronics.
No surprise for me. Simply I do the same.
Each channel has different types of shares and conversation rates. It looks that email is the most valuable.
Twitter is good for holidays and home, Google plus for electronics, sport, apparel, and facebook – apparel, electronics, and sports:).
Some social media channels are most popular in the USA but I think the trend is really similar to Poland.
Polyvore is quite unknown in Poland but you can use it for clothes, children, and home-related products. Pinterest is very similar but home equipment is replaced with health products. You can notice many diets and healthy food-related pins.
Wishpot – a wishlist portal that you can share your shopping list or your wish list. It looks that it is also a good place for recommendations and sharing.
StumbleUpon – a place to present the best websites filtered by your interest.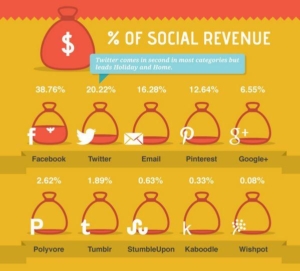 SocialROI stats
Social media in 2017
The rise of mobile usage, combined with shortened attention, and the common usage of Facebook, have made the social login essential for quick and easy experiences in eCommerce.
Events are now made easy with Social Login, Social Sign-Up, and Social Entry buttons. Form fills are now a single touch rather than a multi-field process.
Some statistics:
32.8% of social account creators actively buy products and are more likely to socially share brand stories and help brands gain their organic traffic.
Facebook and Google are most trusted  – 90% of all social logins. Facebook remains the preferred login for both brands and consumers. Consumers trust Facebook and brands are able to obtain key data for specific targeting across buyers.
Organic traffic is really bad for social media because all social media channels try to diminish it and try to earn money from adverts. On the other hand, they introduced more custom adverts for custom audiences based on your facebook users. You can simply target your customers or subscribers and check their activity by adding pixels to your shop, website, online form, etc.