e-commerce is hotter than ever.
Whether in mature markets, where consumer spending is shifting online because of convenient purchases, or in growth markets where rapid urbanization and increasing (mobile) internet penetration are unlocking new shopping habits, shoppers are 'e-commercing' it up.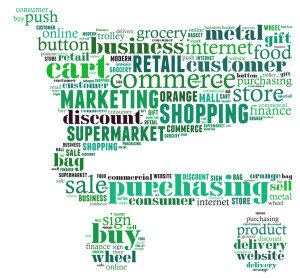 Some stats ( from trendwatching.com) in 2012 vs 2016-2017:
US e-commerce sales will grow 62% by 2016, to $327 billion (Source: Forrester, February 2012) – the actual data – $322 billion (Source: Statistica.com)
European e-commerce sales will grow by

78% by 2016

, to USD 230 billion (Source: Forrester, February 2012).
Brazilian e-commerce sales will grow 21.9% in 2012 to USD 18.7 billion (Source: eMarketer, January 2012).
Chinese e-commerce sales were CNY 780 billion (USD 124 billion) in 2011, an increase of 66% from 2010. E-commerce is expected to rise from 3% of consumption to 7% by 2015 (Source: IDC, March 2012) – 2016 data:  $ 681 billion

Over 40% of the total global e-Commerce spend came from China in 2015
Approximately $14.3 billion was spent on last year's "Singles Day", the one day Chinese digital shopping holiday
The total number of digital shoppers in the country reached 468 million last year
Online wallets are the top payment method of choice, with 33% of Chinese shoppers utilizing the technology to complete transactions

India's e-commerce market is expected to grow to USD 70 billion by 2020, from just USD 600 million in 2011 (Source: Technopak Advisors, February 2012).
According to a new study by Forrester Research, approximately a fifth of total retail sales will take place online by 2021 in Asia Pacific, with 78 percent of that coming from mobile, up from 63 percent in 2016. The study adds that online retail via mobile will grow at a CAGR of 15.6 percent, to reach $1 trillion in 2020, up from $539 billion in 2016.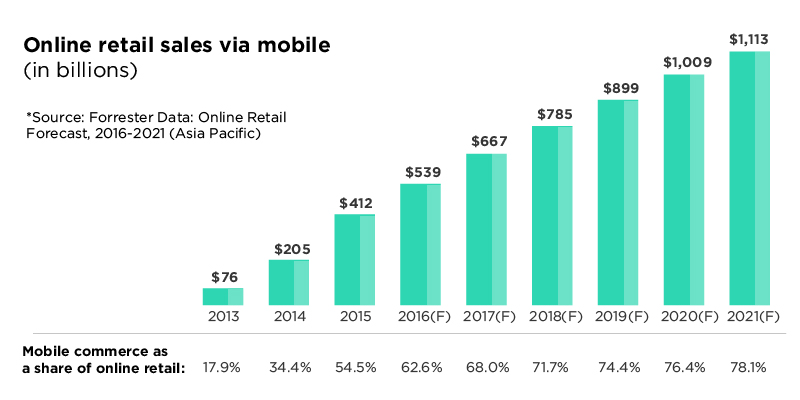 Maturing customer
World over, apparel is the largest category for online retail, followed by consumer electronics and computer hardware.
However, grocery, beauty and cosmetics, home appliances and furniture are the fastest-growing categories, showing the increasing maturity of online shopping in Asia Pacific.